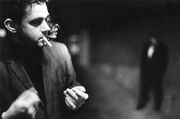 Alfonzo is an older neonate among the Giovanni, almost considered an ancillae, and the patriarch of his family in
New Avalon
. Before taking this auspicious position, while still alive, he was given the honor of continuing the Giovanni name with another of the family, his sister
Becca
. He gave birth to a daughter of pure Giovanni blood,
Violet
. Shortly after his daughter's birth, he received the honor of gaining the Proxy Kiss. As a ghoul to the family, he served with much dedication. He served faithfully for years while
Becca
raised their daughter. For his dutiful attitude, he was eventually rewarded with the Embrace. He learned the ways of his new existance while
Becca
continued watching after
Violet
. Soon thereafter, Alfonzo was sent to
New Avalon
to develop the families interests in the city, since they have strong business connections there. He was given permission to Embrace
Becca
to assist him in these duties, as well as take
Violet
with them to the States.
Now in New Avalon, the family has grown and requires more attention than he and Becca can maintain themselves. He has requested for more members of the family to come to the city and assist, but instead Alfonzo was told that he may grant his daughter the Proxy Kiss in order to pave the way for her eventual Embrace. He was saddened by the fact that this would result in the end his mortal family line, but the interests of the family always came first and this time was no different. New Avalon needed another Giovanni, and Violet was granted the Proxy Kiss in preparation for this. His Sire approved of the hard choice that Alfonzo made and his sacrifice has earned him even more reputation among the family.
Known Ghouls
Edit
Violet Giovanni - Proxy Kissed
Giovanni Lineage
Unknown
Unknown
Unknown
Unknown
Unknown
Alfonzo Giovanni