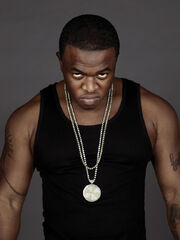 David is an ancillae and the childe of
Hector
, the former independant Kindred who claimed
New Avalon
as his Domain until he was destroyed when
Michelle Rauchete
took the city in the name of the Camarilla and proclaimed herself Prince.
David is quiet and reserved, but cordial when necessary. He was the Gangrel Primogen before the clan's fallout from the Camarilla and chose to remain in the position afterwards, a position that he maintains with Prince Natalia's acceptance, despite the fact that he never has been particularly supportive nor opposed to Natalia's decisions. He is something of a wild card among the Primogen Council.
As a Primogen, he is seen at Elysium on occasion, but attends only out of a feeling of necessity. It is no secret that he does not have any great desire to remain in Elysium's halls any longer than necessary and that he prefers solitude over socializing.
For a great many years, he was rather protective of his younger blood-sibling, Lida, but it seems recently that the two have had a falling out or, at least, do not remain as close as they once did. Neither David nor Lida comment on the current situation between them, and will not even confirm or deny whether a falling out has actually occured.
Gangrel Lineage
Unknown

Unknown

Unknown

Unknown

Unknown

Unknown

Unknown

David Allsworth